#88 Forty-four!
• Curated by Felix
Update on what happened across the GNOME project in the week from March 17 to March 24.
This week we released GNOME 44!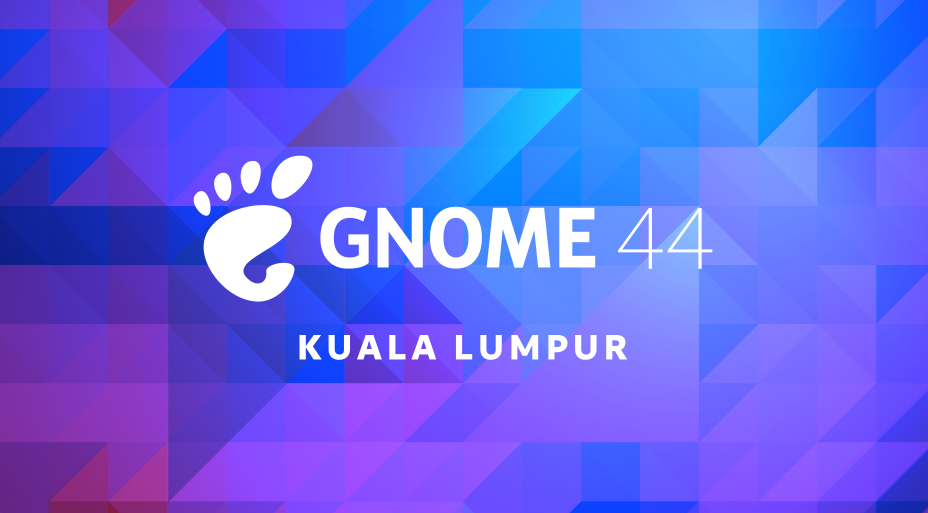 This new major version of GNOME is full of exciting changes, such as major improvements to the Settings app, a better quick settings menu, a streamlined Software app - and of course much more. More information can be found in the GNOME 44 release notes.
Readers who have been following this site for a few weeks will already know some of the new features. If you want to follow the development of GNOME 45 (Fall 2023), keep an eye on this page - we'll be posting exciting news every week!
GNOME Core Apps and Libraries
Libadwaita
Building blocks for modern GNOME apps using GTK4.
Jamie announces
AdwAboutWindow has a new_from_appdata constructor now, allowing creation of AdwAboutWindow from valid AppStream metadata
GNOME Incubating Apps
Loupe
A simple and modern image viewer.
Sophie 🏳️‍🌈 🏳️‍⚧️ ✊ says
Loupe now supports showing animated GIFs, PNGs, and WebPs. The HEIC image format (x265 codec) can now be separated into an extension that is automatically loaded if available. This is primarily due to pending software patents that might apply in some countries. Last but not least, the image format detection has been unified. Loupe will now, in many situations, be able to load images with the wrong extension and show the actual image format in the properties. Your browser doesn't support embedded videos, but don't worry, you can download it and watch it with your favorite video player!
GNOME Circle Apps and Libraries
Share Preview
Test social media cards locally.
Rafael Mardojai CM announces
Share Preview 0.3.0 has been released in time for GNOME 44 and is available from Flathub.

It includes the following changes:

New scraping logger feature
Remember last selected social platform
Design improvements
Updated to use latest libadwaita features
Many small bug fixes
Updated translations
Identity
Compare images and videos.
Ivan Molodetskikh says
I released Identity v0.5. In this version I implemented the long-awaited side-by-side comparison mode! Images and videos can be arranged in a row or a column, and their position and zoom remain fully synchronized.

I also reworked mouse gestures for zooming, panning, and drag-and-drop, taking heavy inspiration from Loupe. They make Identity much more pleasant to use. Your browser doesn't support embedded videos, but don't worry, you can download it and watch it with your favorite video player!
Dialect
Translate between languages.
Rafael Mardojai CM announces
This week we merged some new things on Dialect. The preferences window has been redesigned a bit. Now you can choose from multiple text-to-speech providers, currently Google and Lingva. We also added new translation providers for Bing and Yandex.
Commit
An editor that helps you write better Git and Mercurial commit messages.
Sonny says
Commit message editor 4.0 is out

GNOME 44
Ask for confirmation before dismissing changes
Show the name of the repository in the title bar
Prevent shortcut from saving empty commit (by axtloss)
Improve tooltips (by Felipe Kinoshita)
Design improvements
Miscellaneous
Bilal Elmoussaoui reports
After a few months, I finally got the time to do a release of the various design tools! The releases mostly contain bug fixes, translations updates & code cleanups for:

Additionally Symbolic Preview now supports exporting the css classes used by symbolic icons.
Third Party Projects
swanux reports
This week I released version 0.4.2 of my simple mediaplayer HBud. As the version number indicates, it hasn't reached its final form yet, but with this version many problems have been ironed out. HBud is not intended to compete with any of the "big ones" (this being a one-man show, wouldn't even be possible), the goal is to provide a simple and convenient alternative for those with similar preferences to me. Check it out on Flathub.
Geopard
A Gemini client.
ranfdev says
Geopard has finally received a new release! Take a look at the changes:

Updated to latest libadwaita and GTK to improve performance and compatibility, including the use of the new Adw.TabOverview widget for improved tab management on small screens.
Added support for opening files and gemini mime types from the command line.
Added tab history menu on right click over arrows for easier navigation.
Fixed issue with links without whitespace not working properly.
Moved scrollbar to the edge of the window for a cleaner UI.
Added tooltips for items in header bar to provide more information to users.
Added more information to the About window to give users a better idea of the project's.
Various fixes and refactorings.

Download it from flathub
Login Manager Settings
A settings app for the login manager GDM.
Mazhar Hussain reports
Login Manager Settings v3.beta.0 was released.

Changes compared to the previous alpha release are:

The flatpak runtime has been updated to version 44.
Fixed a bug where the app could not launch on PureOS.
A few code improvements were made.
Cawbird
A native Twitter client for your Linux desktop.
CodedOre reports
After an overhaul of the system responsible for managing timelines, Cawbird 2.0 can now show and mark pinned posts on a users detail page.
Documentation
Allan Day reports
With Libadwaita 1.3 officially released, GNOME's Human Interface Guidelines were updated to include guidance on the new banner widget. This replaces the guidance on info bars, which have been deprecated.
Shell Extensions
Auto Activities
Show activities overview when there are no windows, or hide it when there are new windows.
Cleo Menezes Jr. announces
In this new version, Auto Activities receives significant improvements, some of which are:

Add preference to ignore last workspace
Hide New Window option is enabled by default.
Revamp preferences window Your browser doesn't support embedded videos, but don't worry, you can download it and watch it with your favorite video player!
GNOME Foundation
Rosanna reports
Work at the Foundation is humming along. For me, this week was a paperwork week. This involved:

Filing some paperwork with the state of California to keep us in good standing
Checking on the status of staff health insurance policy
Updating payroll
Working with our 401k accountants on some tax forms
Updating the employee handbook
Reimbursing some travel expenses
Forwarding some paperwork to the bank
Updating the accounting books
Invoicing some corporate sponsors
etc.

These are the types of things required to do on a regular basis to keep our foundation running.

In addition, some of the staff got together this week to start compiling a document on all the programming we currently do to address diversity. We hope of getting a better idea of where we currently stand and what we can do to improve.

Reminder: Get your talks for GUADEC submitted now! The deadline is March 27. More details at https://foundation.gnome.org/2023/02/24/guadec-2023-cfp/
That's all for this week!
See you next week, and be sure to stop by #thisweek:gnome.org with updates on your own projects!